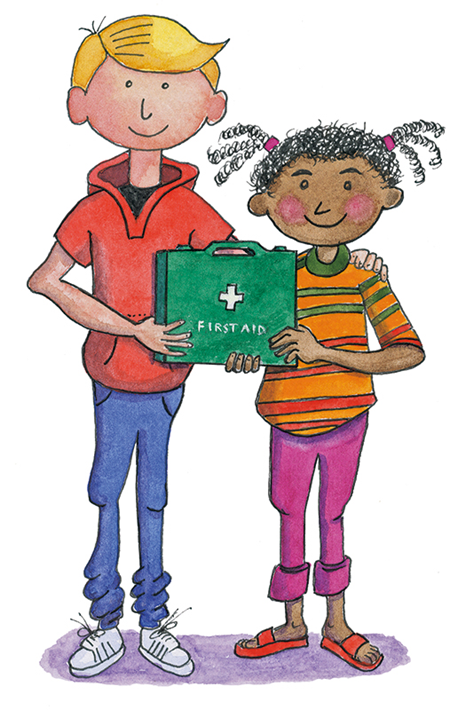 Mini Medics First Aid for Primary Schools
The Mini Medics first aid course is a fantastic way to introduce first aid to children. The course is kept to a basic level, there is no use of complicated and confusing terminology and shows complete respect for the child's ability. Delivered by experienced teachers allows for continuous interaction and a fun learning environment. All our staff have up to date Enhanced DBS certificates.
Key stage 2
The Mini Medics first aid course is aimed at children between the age of 8 and 11, (Key Stage 2) but delivery can be amended to suit children of a younger age.
The course is structured to be both educational and practical and designed to encourage the importance of helping someone who is injured or becomes poorly.
Duration
These courses generally run for a 3 hour period but we will remain flexible to your needs, the sessions do include educational, theoretical and practical teaching sessions.
Every child will receive a Mini Medics training pack which includes:
A fully illustrated 24 page First Aid for Children book, this includes a cut-out Mini Medics certificate of attendance.
A pen (in the shape of a syringe)
A 4 page worksheet
The opportunity to purchase Mini Medic t-shirts and hoodies (optional).
What we cover:
What is first aid?
Communication and contacting the emergency services
Safety
First Aid kits
DR ABC
Recovery Position
Resuscitation (CPR)
Defibrillation training
Choking
Wounds and bleeding Shock
Assessment
This introduction to first aid for children is a non-regulated qualification and attendance is all that is required.
Certification
For quality teaching purposes a maximum of 16 children can be accommodated on each course and ideally all children should be a minimum of 8 years, however we have permitted younger children in the past, and this would not be a problem.
Although this course is focused towards primary schools we can also deliver to junior sports clubs and organisations such as cubs and brownies, we have also successfully delivered the mini medic programme during summer school holidays.
"We need more young people to know the basics of first aid – which will, no doubt, help save lives in the future. By teaching these first aid skills, we would have one million qualified First Aider's in a generation, which would reduce unnecessary visits to A&E and save countless lives."
MP Sir Bob Russell and Chair of the First Aid All Party Parliamentary Group.
Book this Course…